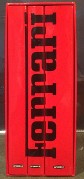 ferrari opera omnia 1946-2002

by

Published 2002
10" x 12" x 5"
$300

An extravagant publication. This 3-box set tells all, as the name implies. In three languages – Italian, English & French. Standout book for the shelf with 'Ferrari' cleverly displayed by the spines of each book.


SOLD
una vita per l'automobile

by Enzo Ferrari

Published 1998 - 371 pages
10" x 13"
$400
Enzo Ferrari's life in his own words. This is a treasure. Enzo doesn't mince words, he was a very straightforward man. While visiting Ferrari in 2004 I was shown this book during an art signing session with team chief Luca Montezemolo, Michael Schumacher and Rubens Barichello.


SOLD
racing activities 2004 pit lane

by Ferrari Gestione Sportiva

Published 2004 - 215 pages
13" x 9.5"
$150
This official Scuderia Ferrari publication documents the amazing Ferrari 2004 season. Apart from all the other classifications the Formula 1/Schumacher year is prominently preserved with some great pics and lots of detail.