Our special nod to the history of motor racing, rail, and air transportation. For the first time, we are able to bring you the Goodwood Members Meeting in the south of England and Jim Clark's Motorsport Museum in the Borders of Scotland. To make this even more significant, we split our traveling through England & Scotland with luxury coach and rail, and include some rare opportunities to highlight visits and people along the way. We start our journey in the south of England, with the special invite to the private Goodwood Members Meeting. It will be the first time we have had the opportunity to offer this. On our journey north, we have incorporated Air, Auto, and Train Museums with exceptional travel throughout the beautiful countryside of the UK. We have particularly emphasized train travel, starting with London to York on the daily express. From York, we journey on the most famous rail route, Settle to Carlisle, crossing the wildness of the North Yorkshire Dales and Cumbria. From Carlisle, we visit the beauty of the Lake District, and then continue up into Scotland with a visit to a part of the Roman 'Hadrians Wall'. In Scotland, we visit the farmlands around Jim Clark's home town of Duns. A reception at the Museum is arranged by the Trust. The Trust has also arranged for visits to a nearby operating Tweed Mill, and a Scotch Whiskey Distillery. We then journey on to Edinburgh for two days in this ultra-modern yet very historic city. We conclude with a final night Scottish Evening. With all of our programs, we try to emphasize the quality of our accommodations. This program is no exception, with stays at 4 and 5-star luxury hotels. In London, we are dining as guests at the private 'Royal Automobile Club.' Throughout the trip, we'll enjoy restaurants that will certainly dispel any fears of 'English cooking'!



DAY TO DAY ITINERARY
April 8, DAY 1 Meet at the Heathrow Hilton Terminal 4 for a 12:00 noon departure by coach for the village of Beaulieu. The remainder of the afternoon is at leisure before early evening cocktails, followed by dinner—Crown Manor at Lyndhurst for the next three nights.

April 9, DAY 2 This morning we visit the exhibit at RAF Tangmere, alongside West Hampnett (now Goodwood Circuit). RAF Tangmere was a Spitfire base. However, as important, it was the top-secret base for flying spies into and out of Europe using short take-off and landing Lysander aircraft – with no weaponry, radio, or lights, these brave airmen flew only at night a few feet above the English Channel. Our lunch is at a cozy Inn once used by RAF pilots. This afternoon, we are at Goodwood for our first day of the Members Meeting. Today's visit will include some qualifying events and track displays. The central focus is the large 'Mess Hall' - this was once a wartime airfield where lots of activity is going on and includes a very large food hall. Drivers and Members alike share the long tables. At dusk, there is a massive bonfire with entertainment and fireworks, a major part of the social aspect of the Members Meeting. This evening, we return to our hotel.
April 10, DAY 3 All-day at Goodwood for the main races. First, we visit Goodwood House for a champagne breakfast and then are chauffeured by limousine to the circuit. Roving grandstand seating allows for opportunities to view the racing from various locations. A full day of fabulous racing concludes with trackside English High Tea. Later that evening, we return to our hotel for a light supper.
April 11, DAY 4 This morning we visit the National Motor Museum just a few yards from our hotel. In the afternoon, we leave the south coast for London. En route, a visit to Brooklands, the birthplace of British Racing. Parts of the wooden banking are still intact, and the old paddock area now exhibits some of the race cars and a number of bikes. Also on display are airplanes, including the Anglo-French SST. We arrive at our Central London hotel with time to relax around the theatre area and Leicester Square. A very special evening at the Royal Automobile Club in Pall Mall, synonymous with British Racing and Car Events. We are guests of a private Club Member for dinner.
April 12, DAY 5 The second part of our journey now heads North. We board the London York Express train. In 2 hours, we are in York. York was one of the main train hubs of Britain and had the finest Rail Museum in the country. This afternoon allows plenty of time for the museum, plus York has a fine shopping centre in the heart of the ancient City. Next two nights in York. Dinner this evening at our hotel.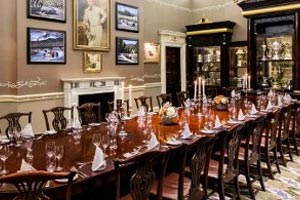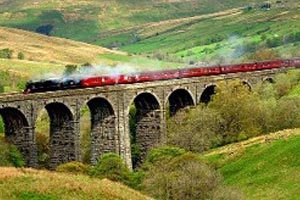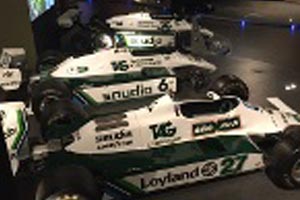 Photo courtesy of Royal Automobile Club Photo courtesy of Settle to Carlisle Railroad Photo courtesy of Williams F1
April 13, DAY 6 This morning we visit RAF Scampton, close to Lincoln. It was here in 1943 a group of Lancaster bombers attacked the Ruhr dams with the famous bouncing bomb. RAF Scampton also is home to the Red Arrows air display squadron. At lunch, we visit the local village and the aptly named Lancaster Inn. We return to York in time to visit the old city centre. Dinner this evening is at your leisure.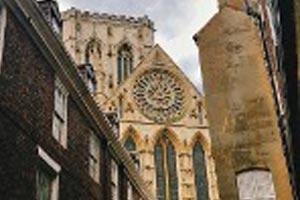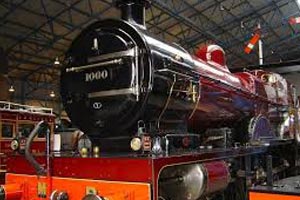 Photos courtesy of City of York and York Railway Museum Photos courtesy of Lake District and Lakeland Motor Museum
April 14, DAY 7 This morning we board the Settle to Carlisle Railway. The route journeys through Yorkshire dales and moors, and into Cumbria, one of the most beautiful sections of the railroad in the country. Late afternoon, we rejoin our coach and head for Bowness-on-Windermere, the gem of the Lake District. The next two nights in Bowness. Dinner at our hotel.

April, 15, DAY 8 A relaxing morning as we cruise on one of the Lake Windermere Steamboats. Our destination is the Lakeland Motor Museum, which has an emphasis on public transportation. Today is also a great opportunity to walk the Lakeland footpaths or even visit the home of Beatrix Potter at Near Sawrey. Bowness also offers quality shopping. This evening, we dine on the shore of Lake Windermere.

April 16, DAY 9 Departing the Lake District, our journey into Scotland starts with a visit to Hadrian's Wall. It was built by Emperor Hadrian during the Roman settlement of England. Its intention was to keep the Scots and Picts from invading. Following a lunch stop at the lovely village of Hexham, we head into the Scottish Borders and to Duns. This afternoon we have a welcome reception at the Jim Clark Motorsports Museum with both the director and the curator. We overnight at the Schloss Roxburghe Hotel. This evening, a banquet in the historic State Dining Room of the hotel where we are joined by guests from the museum.
A morning to enjoy the grounds of Duns Castle. We once again visit the Jim Clark Motor Museum. In the afternoon, we visit a fully operational Tweed Mill, culminating with a visit to a local Scotch Distillery. Dinner this evening is in Berwick on Tweed for a traditional 'fish and chips' dinner.
April 17, DAY 10 We depart for Edinburgh. En route, we visit the National Museum of Flight, which offers an array of military and commercial aircraft with the best-preserved Concorde and Vulcan bomber, among many other wars and peacetime exhibits. This afternoon, we arrive in Dalhousie Castle, Scotland's oldest inhabited castle. Our last two nights at Dalhousie Castle. Dinner at the castle is quite formal, even though it's held in the castle dungeon room.

April 18, DAY 11 A day to enjoy Edinburgh, one of the most exciting cities in the UK. This morning we offer a tour of Edinburgh Castle and the Royal Mile. We leave this afternoon for your own touring. The shopping in Edinburgh is superb plus the city centre offers lovely walks and parks. This evening we enjoy a traditional Scottish Cabaret – No, you don't have to eat Haggis, but you can! Late evening return to Dalhousie Castle.

April 19, DAY 12 This morning our tour concludes. You can return to England by plane or train, or if you are returning to the States, there are flights out of Scotland. We are happy to help you with your ongoing travels, wherever they might take you.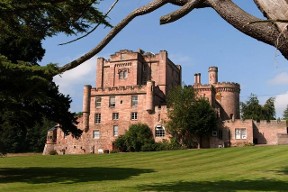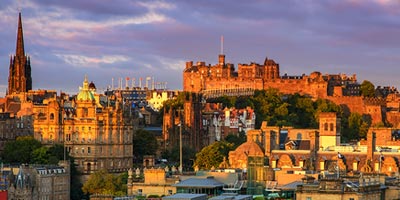 WHAT'S INCLUDED:
The program is inclusive of all ground transportation throughout the UK. The tour price does not include air transportation to or from the USA to Europe. All accommodations, visits and tours, all breakfasts are included, with most dinners and some lunches as per itinerary. Arrival airport for this tour is Heathrow. The departure airport is Edinburgh.
Steve Austin (Great Vacations) will accompany the tour and act as organizer and tour arranger.