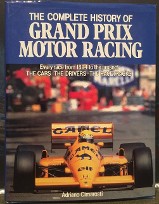 The Complete history of grand prix motor racing

by Adriano Cimarosti

Published 1986 - 432 pages
11" x 9"
$100

Another book I have used over the years for information. Specifically for checking on autographs, which appear of almost every driver from the get go. A ton of information plus some nice color plates.

grand prix


the cars*the drivers*the circuits



by Michael Joseph

Published 1981 - 224 pages
10.5" x 13.5"
$100
Had a hard job putting this one up for sale! Broken into three main segments: the cars, the drivers, the circuits. Three writers: David Hodges, Doug Nye, Nigel Roebuck, as usual are brilliant. The book takes us up to 1980. For me, the highlight of this book is the 350 specially commissioned illustrations. In particular, the twenty six full page sepia portraits of the drivers by Craig Warwick, who we have sadly just lost, well before his time. The book and content is in perfect condition, the dust jacket has a little wear, a testament to its popularity

grand prix !
by Mike Lang

Published 1981 - 288 pages
8.5" x 11"
$60
This race by race account of F1 from 1950-1965 is practical. Loaded with information, race facts and pictures. Published in the age when color was not financially viable for many publications. In this day and age it seems dated but there is a lot to this book to like.