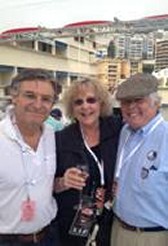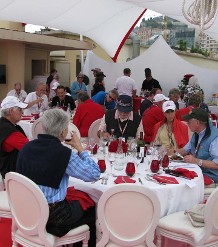 Alain DeCadenet in Brescia, The delightful Grand Hotel Gardone on Lake Garda, Alain & Brian with guest, Lunch at our Hospitality Suite
Tuesday, May 15 This is a good 'take a breath' day. There is nothing planned this morning. This afternoon we take a boat from Camogli around the Portofino peninsula to the resort town of Santa Margherita. The stores open at 3:00pm and has a nice selection of boutique and regular shops. Later in the afternoon we take a very short boat ride into the iconic small harbor of Portofino for dinner at the famous waterfront restaurant 'Delfino's. There will be plenty of time to visit the harbor and shops before dinner.

Wednesday, May 16 Today is our busiest day for travel. We are traveling from Camogli to Lake Garda with some visits en route. There will be rest stops along the way. Our departure will be early at 8:00am as we head for our first stop at Maranello, home to Ferrari. Entrance to the Ferrari Galleria is included. Early afternoon we depart for Modena and a visit to the new Enzo Ferrari Museum. Mid-afternoon we head north for Lake Garda and our hotel 'The Grand Hotel Gardone', one of the famous 'grand tour' locations. Dinner is at our hotel.
Thursday, May 17 Our final touring day takes us to Brescia and the Mille Miglia. A 9:00am departure for the center of Brescia. This morning at leisure to walk around the small center. The Mille Miglia entrants are parked in two squares and gradually make their way to the main square where they are introduced to the crowd. At noon we head to the Mille Miglia Museum. Mid afternoon we watch the cars depart. We then return to our hotel. Our final meal together is exceptional. A private launch takes us across to the extraordinary Punta San Vigilio. Early Evening Dinner is a gourmet experience in one of the most beautiful settings. Our launch returns us to the hotel with time to relax at the hotel or in the small village of Gardone.
Friday, May 18 Following breakfast, we depart for Milan's Malpensa airport.
Tour Dates: May 10-18, 2018
Tour Price: 9-days $6,860 per person OR 5-day Monaco section $5,480 per person, based on two to room
Single Supplement: $2,280 per person $1,600 per person