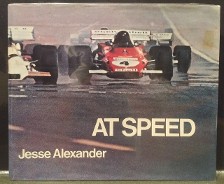 AT SPEED
by Jesse Alexander
Published 1972 - 158 pages
17" x 14.5"
$350
SOLD
The ultimate coffee table book. Jesse Alexander's beautiful book is arguably one of the most sought after collector editions. It's big, superlative, what more is there to say. I have another copy that sits in my living room alongside 'Churchill – His Finest Hours'. Now, that's reverence for you.

le grand prix
automobile de monaco
by Yves Naquin
Published by Monaco Auctions - 350 pages
Limited Edition #718
$175
This book was born out of the success of the original publication of the boxed set with color plates. (See above) It was, I believe, a misguided attempt to 'reintroduce' the original at an affordable price to the masses. It is not boxed. There are no color plates, and no color pages inside. The content, copied correctly from the original, makes for an interesting read, but falls short of its intended presentation. Nonetheless, it could prove to be an okay investment just on the strength of the content.